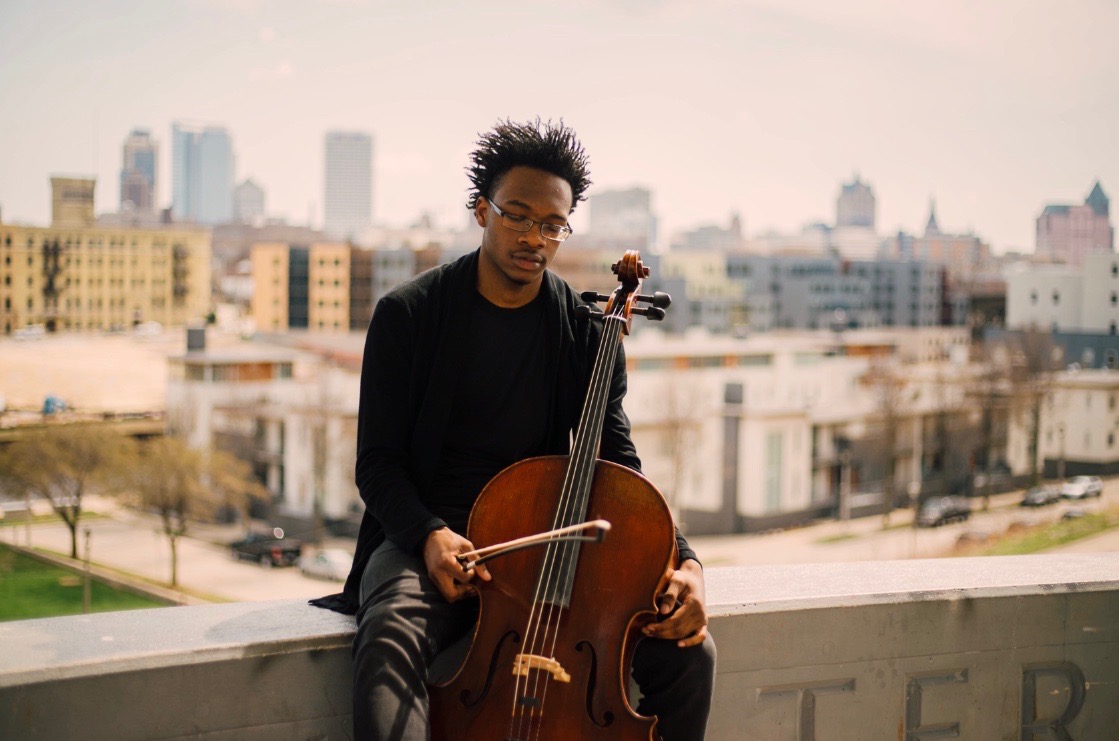 Artist Of The Month: November
Born again through music
Among the hustle and bustle of Chicago is a soft spoken musician who plays the Cello, produces his own records and sings soulful ballads of teenage love. Such is the nature and vibrations resonating off of Milwaukee raised, DePaul scholar 99TheProducer. After a busy last 2 years, 99 has gone on to build a well deserved following, and collaborate with artists like John Legend and PJ Morton of Maroon 5.
But lets rewind for a second…
Born Malik Johnson, 99TheProducer first started playing the Cello in 3rd grade. Over the years, 99 has continued to perfect his craft with the string instrument. His efforts were noticed by String arranger Matt Jones who visited one of 99s rehearsals. The well respected talent scout was impressed with 99s skill as a musician, and helped him land incredible gigs with high end artists. Earlier this year, 99TheProducer found himself playing Cello alongside New Orleans icon PJ Morton on NPRs "Tiny Desk" series. More recently, 99TheProducer had the opportunity to assist John Legend on his new Holiday album.
However, it wasn't until his senior year of high school when the musician recorded his first single "Waves". The record did well for itself, and 99 released "Used To" soon thereafter. It was then when 99TheProducer took full form, and began telling stories of love, confliction and everything else that a longing heart could possibly feel. "Why do you let them boys up in your face now, they don't love you they just want to get a taste…", 99 sings on "Used To" which included his signature Cello accents and drum pockets.
Only 18 was 99TheProducer's first project, which was an epic 5-song showcase of Hip/hop and R&B. The project accumulated nearly 100k streams and solidified 99 as an artist with a loyal fanbase. Wavy production, sensational percussion and addictive vocals are what make 99TheProducer pound-for-pound one of the most talented artists out of the midwest.
It was roughly 7 months ago when 99TheProducer released arguably his best work yet: the Studio 204 EP. If you listen to any 99 track, you'd be as baffled as I was to learn he's never recorded a single song in a professional studio. The entire project was recorded in his DePaul dorm room, where 99 spent countless hours producing, recording and mixing his sensational project. It was recorded in dorm room 204.
The 4 song project has the emotional weight of a 20 song album, as each track finds 99 sharing vulnerable tales of past relationships, disconnection and the pivotal journey of understanding love. Every lyric and every hook is reminiscent of late night Drake / 6lack heartbeat-skippers, as they allow listeners to home into the realest emotions we have all undoubtedly experienced. When 99 released the visual for "These Days", it was evident that the project was the real deal.
99TheProducer is heavily influenced by Eli Sostre, and pays great respect to his sound and lyrical content. Eli made a social media post asking for musicians to submit their content, in hopes of finding the missing sonic pieces to his new project. 99TheProducer did just that, and sent in a clip of him playing the Cello. Eli followed 99 soon after on Instagram, and we're told we can expect a 99 contribution on Eli's new project.
Things are looking bright for 99TheProducer, who is looking to make 2019 an even bigger year. 99 will be performing at our "King Of The North" event on December 8th. See flyer for details and FAQ under our "Concerts" section.
In the meantime, dive into your emotions and finish off this read by watching the visual of "These Days", or streaming the Studio 204 EP.
Written by Alexander Garrett. Chief Executive Officer. alexgarrettmanagement@gmail.com